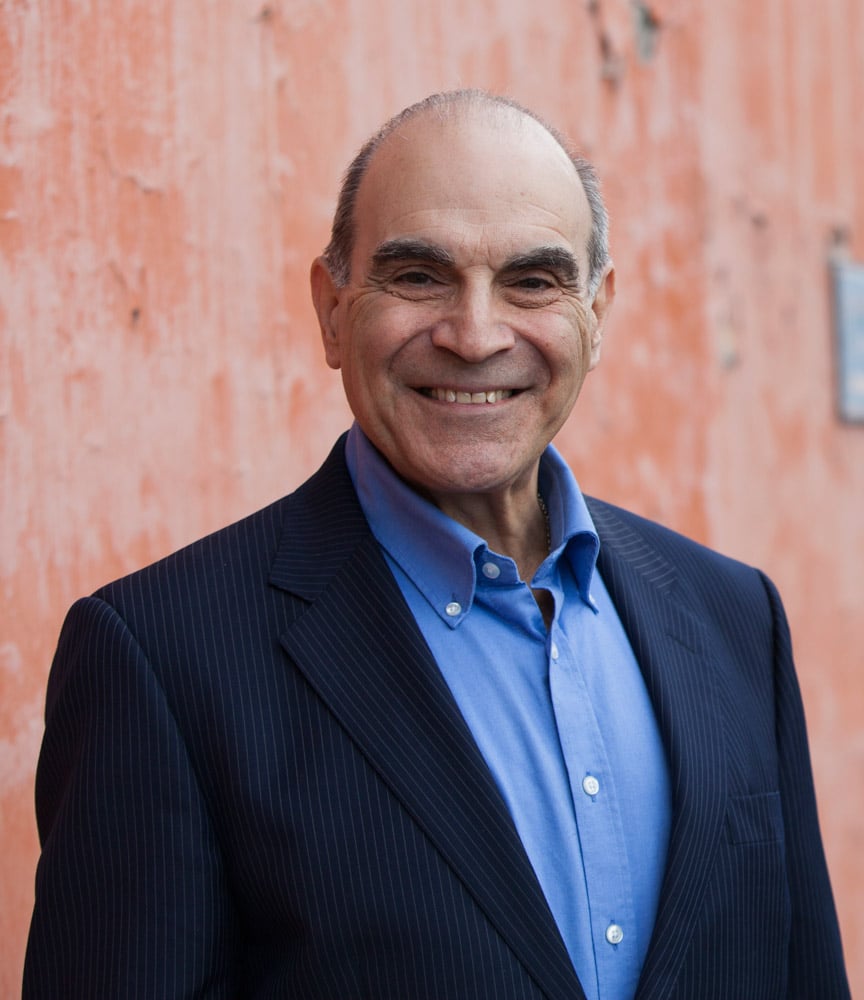 DAVID SUCHET CBE
""My interest in pain control and palliative care comes from my own personal life experiences. Experiences I'm certain many of you also share. It is concerns me deeply that four out of every five people do not have adequate access to essential pain medicines, or to the palliative care services that transform the end of our life experience for patients and families alike. I was fortunate enough to watch both my mother and father die 'well'. And if that is well, it's not good enough." – David Suchet
Best known in the United Kingdom and abroad as Agatha Christie's suave Belgian super-sleuth Hercule Poirot in scores of late 1980s and '90s mini-movies, London-born actor David Suchet's early interest in the theater led to his membership with the National Youth Theatre of Great Britain in the 1960s following graduation from high school. He then studied for three years at the London Academy of Music and Dramatic Arts and, after a significant route in repertory work, became a company member of the Royal Shakespeare Company in 1973 where he was also evolved as one of its dominant players by decade's end.
Though his best-known work has been as Poirot, David Suchet earned acclaim for his roles in the miniseries Blott on the Landscape, The Life of Freud and Maxwell. He also appeared as domineering Hollywood studio head Louis B. Mayer in the well-received HBO feature RKO 281 (1999), about the making of Orson Welles' Citizen Kane.
Suchet has also appeared in numerous Hollywood films The In-Laws, A Perfect Murder, Executive Decision, Song for Europe (Channel 4 – Best Actor Award, RTS Awards), Falcon and the Snowman, The Last Innocent Man (HBO – Best Actor, Ace Awards), Red Monarch (Channel 4 – Best Actor Award, Marseilles Film Festival), and A World Apart (Working Title – Best Actor Nomination, BAFTA).
Widely regarded as the one of greatest stage and screen actors both in his native Great Britain and internationally, David Suchet always offers staggering work full of generously euphoric delight, with a theatre course that includes memorable stunning incarnations such as the Shakespearean ones of Iago in "Othello", Tybalt in "Romeo and Juliet", Caliban in "The Tempest" and "Timon of Athens", as well as in roles such as George in "Who's Afraid of Virginia Woolf?" in 1996 and, from 1998 to 2001, as composer Salieri in "Amadeus", a mesmerizing performance for which he received a Tony nomination after its Broadway presentation.